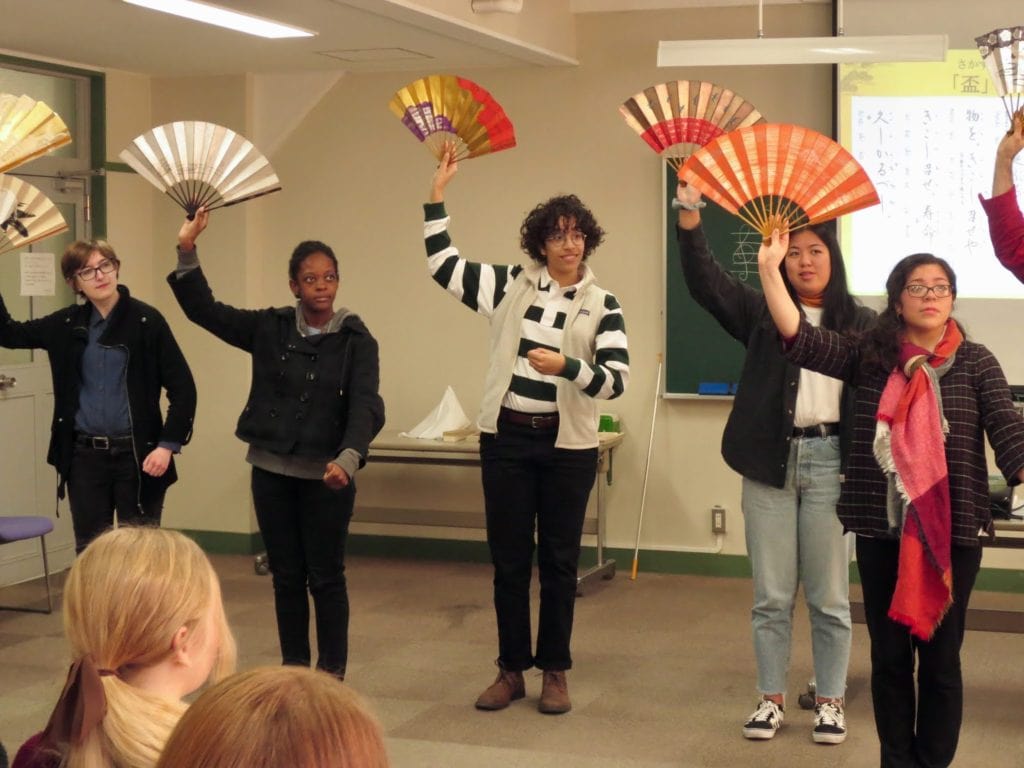 You're used to the challenging academic standards and probing critical thinking that characterize a liberal arts education. You'll find it with AKP. The Associated Kyoto Program mirrors its thirteen consortium institutions in the disciplinary diversity and commitment to excellence among its courses. Thanks to the Visiting Faculty Fellows Program, AKP recruits some of the finest professors from the consortium, allowing you to take classes that will foster a deeper understanding of Japan's long and complex cultural history.
In addition to the AKP elective courses listed below, AKP students may cross-register for elective courses offered by the Kyoto Consortium for Japanese Studies (KCJS), also housed at Doshisha University. Courses taken at KCJS will receive the same credit as AKP electives and will appear on your AKP grade report. Cross-registration is limited to two AKP students per course; other restrictions may apply depending on the particular course. For information about KCJS electives, see their elective course page. For more information about cross-registration, please contact the AKP Resident Director.
---
Spring 2021 (Tentative)
Past, Present and Future of Japanese Language: Introduction to Japanese Linguistics
Professor Kasumi Yamamoto, RD, Williams College

Language learning is a prolonged and intricate journey. Even after many years of learning, does the Japanese language still feel distant and mysterious to you? What do you think makes learning Japanese sometimes so testing? This course is to gain a deeper understanding of how and why Japanese has developed to its present form and usage and to help make sense of perplexing questions you may have. We will first learn basic concepts and methodologies of linguistics such as how to formally analyze the patterns of speech sounds (phonetics and phonology), word formation (morphology), sentence structures (syntax), and meaning (semantics and pragmatics). Then, we will analyze and investigate Japanese variations and usages through the frameworks of sociolinguistics, linguistic typology, anthropological and cognitive linguistics. Topics will include polite language and honorifics, gender and women' language, onomatopoeia, linguistic landscape, Japanese dialects, language conflicts and language rights (Okinawans, Ainu and Koreans in Japan), and multilingualism. The course format is a combination of lectures, seminars and student facilitated discussions.

J-Pop Revolutionaries: Popular Music in/as Japanese Studies
Professor Scott Aalgaard, Wesleyan University

This discussion-based course aims to consider topics in modern and contemporary (understood as post-War through the present) Japanese society through the lens of musical expression. By attending to specific instances of musical expression in modern and contemporary Japan, we will strive to understand not only the songs themselves, but the historical, social, and economic contexts within which they were produced. This course aims to take music not merely as an object of study/analysis, but as a means by which we might both critique and build upon the discipline of Japanese Studies, and area studies in general. At the end of the course, students will ideally have developed a more nuanced appreciation for the complexities and ambiguities of 'Japanese' music in this period, be able to approach narratives of modern and contemporary Japanese (and global) history with a more critical eye, and will have begun the process of developing a conceptual framework by which s/he might investigate an issue of importance to her or him in a 'Japanese' context via the lens of musical expression.
Shintō: The Japanese Way of Kami
Professor James Mark Shields, Bucknell University

This course provides an introduction to the various forms and manifestations of Shinto—or the Way of Kami—through careful study of its historical and mythological origins, basic beliefs, practices and values, historical development, as well as its interaction and involvement in Japanese politics, culture and society, and with imported traditions like Buddhism, Confucianism, Daoism and Christianity. We will explore some of the questions and tensions raised above: Is Shinto a "religion"? Can Shinto be separated from politics and Japanese nationalism? Rather than rely entirely on the sometimes abstract and frequently idealized understanding of history and ideas received from texts, the fact that we are in Kyoto—by any measure the primary historical locus of Japanese religion—will allow us to explore some of the ways that beliefs and values have been put in practice; i.e., via art, architecture, as well as festival and ritual forms. At the same time, rather than simply imagine art as an expression of underlying religious ideas or historical events, we will consider the possibility of material culture as an instantiation or realization of those very ideas and events. In short, we will learn about Shinto via a dialectical interplay of thought and practice—ideas and material culture—without privileging one or the other as more fundamental.

Living with the Bomb: A Comparative Study of Gender, Race and Nationalism in Japan and the United States, 1945-Present
Professor Ann Sherif, Oberlin College

This course will focus on the moral, ideological and historical complexity of the explosion of the atomic bomb during World War II, and subsequent cultural responses in both the Japan and United States as people learned to live with the bomb. Throughout the course we will foreground questions of race and gender, especially as they are embedded in concepts of nation, in order to explore the ideological struggles to justify and live with the bomb. Most discussions of the bomb focus on military and political issues. This course instead will use feminist theories, studies of nationalism, and critical race theory in order to foreground comparative analyses of the significance of gender and race in both wartime and postwar political and social experiences, as well as cultural responses in Japan and the United States. The class will also explore nuclear culture, public history, and activism in Kyoto and other places in Japan through visits to museums, war sites, and guest presentations.
Kyoto and the Visual Arts of Japan
Professor Catherine Ludvik, Kyoto Sangyo University

This course takes students on an exploration of the magnificent visual arts of Japan, from the enigmatic excavated works of the prehistoric period, through the imposing Buddhist arts and breathtaking sliding screen paintings defining traditional architecture, to the vibrant contemporary art scene. Through a sweeping historical survey highlighting the forms and functions of representative artworks in their respective contexts, you will examine such issues as the relationship of Japanese art to Chinese and Korean art, patronage, the ritual and visual functions of Buddhist icons, the translation of concepts into artistic forms, as well as representational strategies and modes of viewing.

Please check often for course description updates.