AKP Comprehensive Program Fee
For students from consortium member colleges, the program fee is covered by their home institution's comprehensive fee. Exact charges and billing procedures depend on each consortium institution's policies and may include an off-campus study fee separate from the program fee. Students should consult with their study abroad office for further details.
For students from non-consortium institutions, the program fee is as follows:
2022-2023 academic year: $36,000 per semester
2023-2024 academic year: $37,080 per semester
Your comprehensive fee covers...
Cultural Activities Grant
AKP provides a 15,000 yen monthly Cultural Activities Grant to all enrolled students to help them deepen their understanding of and engagement with Japanese culture. Students have used this grant for lessons in traditional Japanese music and dance, training in martial arts, travel within the Kyoto area and elsewhere, museum attendance, temple and shrine visits, and many other activities.
The Cultural Activities Grant made the biggest difference in my experience in Kyoto. Without it, I would not be able to take lessons or visit places I really wanted to go.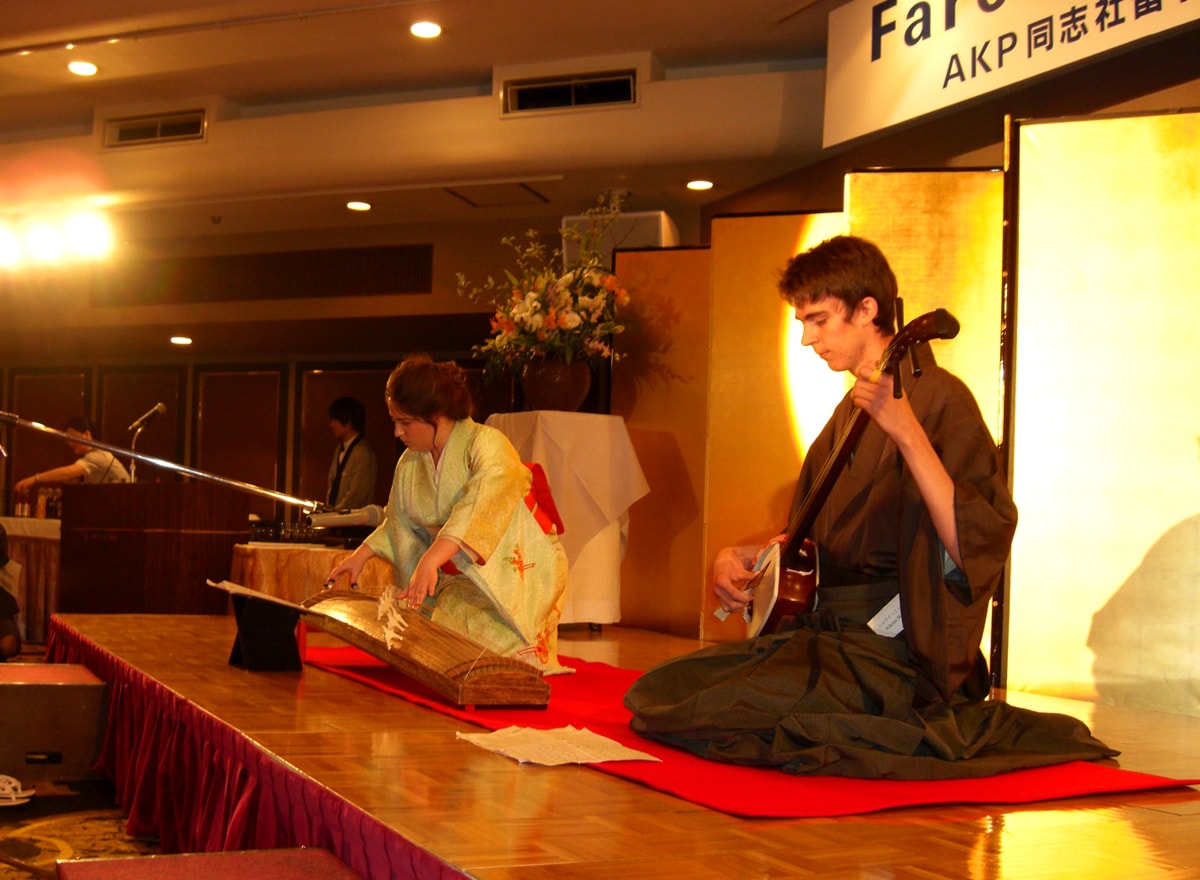 Thanks to the Cultural Activities Grant, daily lunch subsidy, and $1200 airfare stipend, many AKP students have been able to study on AKP with minimal out-of-pocket expenses! Out-of-pocket expenses are those that are not paid directly to AKP and fluctuate according to your needs. Below is an estimate from 2022-2023 AKPers of what they actually spent while in Kyoto. Please note that these estimates may be different than what you experience due to factors such as exchange rate fluctuation or inflation.
| Expense Category | Average Spent in a Semester |
| --- | --- |
| Personal Travel (non-AKP trips outside of Kyoto) | $350 |
| Food (beyond lunch stipend and homestay-provided breakfast/dinner) | $250~$400 |
| Books and School Supplies | $50~$100 |
| Miscellaneous Personal Expenses | $250~$350 |
| Total Estimated | $900~$1200 |
Research and Internship Grants
In recognition of their significant, focused investment in learning about Japan, AKP makes available to full-year students grants that may be used in one of two ways: to support research or as an internship subsidy. Full-year students may apply for one or the other of these grants. Applications should be submitted to the AKP Resident Director and must adhere to AKP's health and safety standards/guidelines.

AKP Research Grants can be used in support of plans for a senior thesis, seminar paper, or an individual project of special interest to the student. Students will prepare a research proposal in consultation with the AKP Faculty and the Resident Director. All research projects must be completed by early April before the spring-semester final exam period. The maximum amount available to any one student is 50,000 yen, paid on a reimbursement basis. 

The maximum amount available for AKP Internship Subsidies to any one student is 50,000 yen, paid on a reimbursement basis.